Community Mapping and the Safe Routes to School Initiative
Throughout the country, community mapping is being used to supplement the Safe Routes to School (SRTS) Initiative in order to make the experience and the results easy to understood. SRTS began with the goals of fostering community involvement and creating a safer and healthier environment. By encouraging locals to go out and assess the quality of their walking or biking routes, it is possible to raise awareness about community issues, forge stronger bonds between members, and create a means for education on healthful habits.
Community mapping in this process adds another interactive dimension to Safe Routes to School. Participants are able to take their surveying a step further by inputting their data onto a map using GIS technology to get a visual representation of their hard work.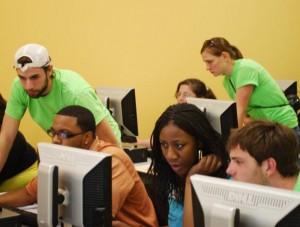 This added accessibility to the results is also crucial because the data can be shown to anyone at any time, creating a permanent and tangible resource for parents and township officials.
The interactive map is easy to update, allowing community members to become aware of any improvements made to the walking conditions with the simple click of a mouse. Parents can continually reassess the safety of the routes to school. Township officials can also have a virtual "checklist" of areas that need improvement and can keep citizens informed on the maintenance they have been working on to make their towns safer and healthier.
Click the following image to view IMSOCIO's Safe Routes to School interactive map.