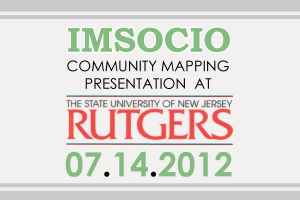 This Saturday, July 14th 2012, at 10:30am in the Records Hall Computer Lab located at 620 George Street in New Brunswick, New Jersey, IMSOCIO students will feature a community mapping presentation. The students will share their experiences on various projects they have completed in Franklin Township and surrounding municipalities using Mappler Mobile, a Geographic Information Systems (GIS) software.
In addition to revealing how GIS technology can be used as a tool to demonstrate an issue affecting the community, these students will explain how their maps can also be used as an element of the solution to a particular social issue. Most of the presentation will be dedicated to a student-conducted sidewalk inventory which identifies all of the broken and missing sidewalks in a 5 X 5 block radius surrounding Pine Grove Elementary School in Franklin Township (our SRTS project). The students will speak to why this particular inventory is valuable to the community and the research they have conducted to figure out the processes associated with fixing and installing sidewalks.
We hope that you will be able to attend. If you have any questions about Saturday's event, please feel free to contact Enrique Noguera, SOCIO Director at 732/853-6330 or enriquen@rci.rutgers.edu.