Community Mapping and the Safe Routes to School Initiative
Throughout the country, community mapping is being used to supplement the Safe Routes to School Initiative in order to make the experience and the results more easily understood and comprehensive. Safe Routes to School began with the goals of fostering community involvement and creating a safer and healthier environment. By encouraging locals to go out and assess the quality of their walking or biking routes, it is possible to raise awareness about community issues, forge stronger bonds between members, and create a means for education on healthful habits.
Including community mapping in this process adds another interactive dimension to Safe Routes to School. Participants are able to take their surveying a step further by inputting their data onto a map using GIS technology to get a visual representation of their hard work. After this process is complete, they and other community members can click on a point on the map to gain access to a list of the conditions that were observed as well as photos of the site.
In a typical Safe Routes to School program, data interpretation consists of entering the information into a spreadsheet, making comparisons between results, or organizing data into categories. These methods can be cumbersome if there is an overwhelming amount of data, and are tedious to enter and interpret, especially if coordinators are unfamiliar with data analysis. Community mapping is a simple and organized method which provides a visual means of interpretation. It is not necessary to have any previous exposure to data analysis in order to understand the scope of the results. This allows the analysis to be accessible to nearly everyone, which extends the audience and heightens the impact of the program.
This added accessibility to the results is also crucial because the data can be shown to anyone at any time, creating a permanent and tangible resource for parents and township officials. Parents who were unable to participate in the program can still assess the safety of allowing their children to walk to school from their computers. Furthermore, having the interactive map available online can raise awareness on the issue at any point after the event has occurred, continually inciting enthusiasm and concern without consistent marketing. Interactive maps can be easily added to any school website, personalizing the walkability of the area surrounding the school.
The interactive map is easy to update, allowing community members to become aware of any improvements made to the walking conditions with the simple click of a mouse. Parents can continually reassess the safety of the routes to school. Township officials can also have a virtual "checklist" of areas that need improvement and can keep citizens informed on the maintenance they have been working on to make their towns safer and healthier.
Projects involving community mapping in Safe Routes to School have been implemented in Garfield, Woodbridge and Somerset, NJ with the support of VERTICES, LLC, an interactive mapping company in New Brunswick, NJ.
The Garfield project sought to address the issue of childhood obesity in its town and saw Safe Routes to School as a way to encourage healthful tendencies while learning a new computer skill. The City of Garfield believed that the safety issues associated with walking or biking were discouraging many students and sought to correct this by combining the community involvement aspect of Safe Routes to School with the interactive mapping of GIS technology. Garfield prepared for the Safe Routes to School program by prepping its students with walking and biking safety tips before the event.
Woodbridge Township was geared for elementary school children who took the bus or were driven to school. Students and their parents completed a walking survey within a quarter- mile radius of Woodbine Avenue Elementary School No. 23 and used GIS to input all their observations onto a map. This event was one of the largest in New Jersey and included participation from local government officials, school administrators, and police officers.
Somerset, New Jersey participated in the Safe Routes to School program in September, 2011. Dr. Wansoo Im, president of VERTICES, has been collaborating with students from Franklin Township High School in a youth involvement organization, IMSOCIO. IMSOCIO had been working with Dr. Im for some time, and the students were familiar with the programming and had other technological skills. The students were also older than those who participated in the Woodbridge initiative and were able to complete the event more independently. After the data was collected, the students were able to input the data easily and with little instruction.
Safe Routes to School can be geared towards any school, but works especially well with elementary schools. This is because, depending upon the size of the school district, a greater percentage of the student body tends to live within a smaller radius in elementary schools as opposed to middle or high schools. However, the integration of Safe Routes to School and community mapping is appropriate for all age groups. The younger students who participated in the Woodbridge event were able to learn the importance of health and safety while bonding with their parents and other community members. This program allowed them to establish healthful habits at a young age and learn how to safely navigate their neighborhoods. Parents were able to take action on an important local issue and were empowered to improve the resources their children were using. The interactive map provided a means by which to raise awareness to local officials and other community members.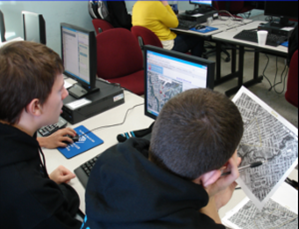 The high school students participated in an event that focused on a local elementary school, but were taught the importance of community involvement and service. Many of the students mentioned how the program fostered a sense of pride in their community and taught them to take pride in themselves for contributing. Because they were able to complete the program more independently and inputted the data themselves, they felt their efforts were more credible and easily recognized. The map the high school students created served as a concrete manifestation of their participation and concern for their community, encouraging future community involvement. The students were also taught a valuable skill that can be applied to many different areas.
Without the addition of GIS technology and community mapping to the Safe Routes to School Initiative, the program ends as soon as the volunteers go home. The community mapping aspects prolongs the life of the initiative and makes the results accessible to everyone, including township officials, school administrators, parents, and those interested in starting similar initiatives. This form of mapping also stores the observations neatly and can be used by all age groups. By using this tool at their leisure as a way to gain a spatial understanding of local issues, community members can find ways to become more actively involved. Community mapping can be applied to almost any issue and is easy to learn. Becoming familiarized with the program requires only a quick demonstration, after which anyone can use it to create a database of information regarding local concerns.